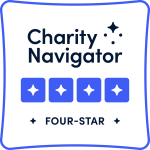 PORTLAND, Maine — The Mitchell Institute's strong financial health and ongoing accountability and transparency have earned a Four-Star Rating from Charity Navigator, America's largest and most-utilized independent charity evaluator. This rating designates the Mitchell Institute as an official "Give with Confidence" charity, indicating that the organization is using its donations effectively based on Charity Navigator's criteria. Since 2001, Charity Navigator has been an unbiased and trusted source of information for more than 11 million donors annually.
Charity Navigator analyzes nonprofit performance based on four key indicators, referred to as beacons. Currently, nonprofits can earn scores for their Impact & Results, Accountability & Finance, Culture & Community, and Leadership & Adaptability beacons.
"We are delighted to provide the Mitchell Institute with third-party accreditation that validates their operational excellence," said Michael Thatcher, President and CEO of Charity Navigator. "The Four-Star Rating is the highest possible rating an organization can achieve. We are eager to see the good work that the Mitchell Institute is able to accomplish in the years ahead."
Jared Cash, President and CEO of the Mitchell Institute, said receiving Charity Navigator's highest rating signals to donors that financial contributions made to Maine's premier scholarship organization are used responsibly and will make a direct impact on the lives of Mitchell Scholars.
"It's truly gratifying to see the nation's largest validator of charitable organizations recognize that the Mitchell Institute responsibly optimizes every dollar given in support of our mission: to increase the likelihood that young people from every community in Maine will aspire to, pursue, and achieve a college education," he said.
The Four-Star rating comes in the same year the Mitchell Institute expanded the number of Mitchell Scholarships it awards statewide by 20. In 2023, the Institute awarded 166 $10,000 scholarships to students from every public high school in Maine.
The expansion in 2023 is part of a plan to increase the number of scholarships the Mitchell Institute awards statewide over the next several years, Cash said.
"Our hope is to incrementally expand the number of students supported in the coming years," he said. "Because of the strength of the outcomes we measure that are a direct result of the Scholarship and all of the wraparound supports we offer, as well as some recent fundraising successes, we recognized that now is the time to make this significantly increased investment in Maine's young people."
Making the increased investment will hinge on continued generosity from Mitchell Institute supporters. While the Mitchell Institute's endowment can fund the expanded number of Scholarships awarded in the coming years, the resulting increase in critical wraparound supports needed to ensure the additional Scholars' success — such as MILE I and MILE II programming as well as funding for Fellowships and SOS (Support Our Scholars) emergency grants — will require increased philanthropic investments from members of the Mitchell Institute community.
"From decades of research, we know that success requires more than just the money provided by a scholarship," said Scholarship Director Kim Gustafson. "All of the supports that we offer Mitchell Scholars — while they are in college and beyond — are what set them up for success in life and set us apart from other scholarship organizations."
Beyond the scholarship, the Mitchell Institute provides Mitchell Scholars with the opportunity to apply for fellowships of up to $1,500 for professional and personal development opportunities, such as unpaid or underpaid internships, career-related service projects, study-abroad experiences, and post-graduate and certification test preparation. The Mitchell Institute also provides Scholars with opportunities to apply for emergency funding for unexpected financial challenges, invitations to free leadership and career development events, and access to a network of nearly 3,000 Mitchell Scholar Alumni who are eager to offer advice, mentoring, and career connections.
"One of the hallmarks of the Mitchell Scholar experience is the ongoing personal support and mentoring that Scholars receive from both the staff and our Alumni network," Cash said. "When you receive the Mitchell Scholarship, you immediately become part of a community that is rooting for you and ready to help you succeed."
About the Mitchell Institute
Founded by U.S. Senator George J. Mitchell, the Mitchell Institute is guided by the core mission to improve the likelihood that young people from every community in Maine will aspire to, pursue, and achieve a college education. In 2023, the Mitchell Institute awarded $1.66 million in college scholarship funds to students from public high schools in every community in Maine. What separates the Mitchell Institute from traditional scholarship organizations is the broader array of support programs that it provides to students. This combination of personal, professional, and financial support makes college degrees more attainable for Mitchell Scholars, who graduate at a rate 27 percentage points higher than the national average. Mitchell Scholars are also more likely than their peers to stay in Maine or return to the state after college. The Mitchell Institute strengthens Maine communities by providing a path to success in college and beyond.
###